See Tracks Think Train
Rail Safety Message – See Tracks, THINK TRAIN!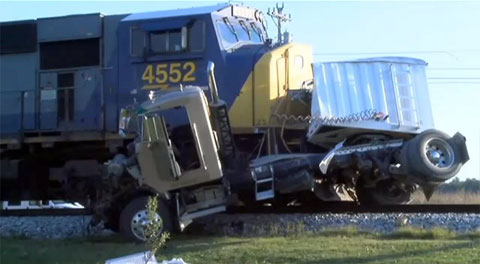 Railroads, unlike other modes of transportation, are private property. Trespassing on railroad property
is not only illegal, but extremely dangerous! Even a slow-moving freight train can often take a mile or
more to come to an unplanned, emergency stop due to the train's sheer momentum combined with the
low friction of steel train wheels riding on steel rails (tracks). Even though a track may appear to not be
used frequently, that does not mean that the track is abandoned. Even 1 infrequent train can still cause
death or injury to the unprepared, unsuspecting trespasser.
August 2014 – Indiana Rail Road Co. Train vs. 2 Women on Railroad Bridge (video)
Similarly, railroad-highway crossings can be dangerous places when motorists fail to adhere to the
warning signs and systems in place to protect them. While we endeavor to minimize disruption to
motor vehicles during our rail operations, the reality is that there will still be times that we need to
utilize the tracks crossing highways and roads, causing some minor delays. While these delays may be
inconvenient, there are not worth risking your life or vehicle over trying to beat the train to the crossing.
Furthermore, drivers that failed to follow the indications posted signs or warning signals and
subsequently cause a train-vehicle collision may be held liable for tens or hundreds of thousands of
dollars in property damage to railroad locomotives, railcars, equipment, personnel, tracks, right-of-way
and structures that can get damaged in such events.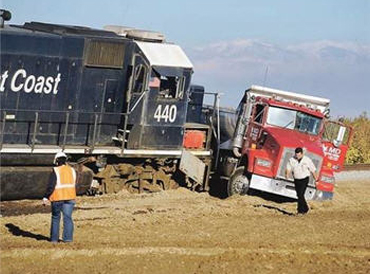 Please remember when driving to ALWAYS stop and look both ways before crossing ANY railroad tracks,yielding the right-of-way to trains once any warning lights are activated and/or when the train begins to sound the locomotive whistle and bell approaching the crossing. Our goal is to ensure that not only our trains and employees arrive safely, but that the motoring public arrives at their destinations safely as well. There is no "consolation prize" for a tie or second-place challenge with a train! For more information on rail safety and what to do to protect yourself, your loved ones, your property and others around railroads, please take a few minutes to visit the Operation Lifesaver's "See Tracks,THINK TRAIN" website for more details.